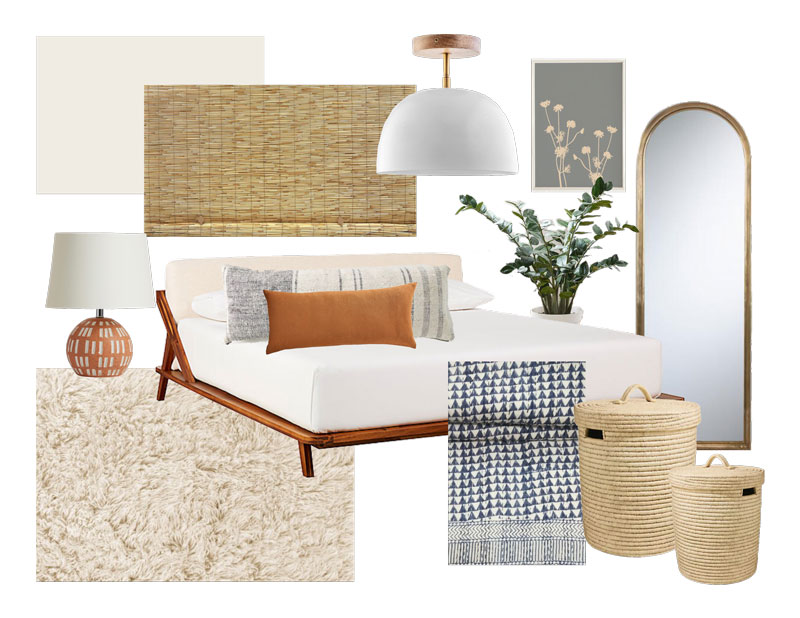 My last three clients have come to me with dreams of reimagining their master bedroom. Relaxing, peaceful, and clean were goal themes that kept coming up in our initial calls. Each of these clients are hardworking mothers with little ones at home. Of course they crave a quiet retreat where they can unwind at the end of the day – I know the feeling all too well!
Honestly, I can't even tell you how happy this makes me, to see women making self care a top priority AND trusting me to help. It is an honor and this is really why I do what I do.
Project Highlight
For this particular space, we decided to give the walls a fresh coat of paint (Swiss Coffee by Benjamin Moore). We also updated the lighting with more modern shapes and chose bamboo window treatments, adding an earthy element.
We went with a low profile platform bed, white bedding and a beautiful patterned kantha quilt at the foot of the bed. Woven baskets serve as a new hamper solution and a floor length arc mirror revamps the closet area, creating a little moment for my client ;)
After establishing the must-haves, I always try to work in some kind of personal touch or little surprises. The space should feel like it's 1,000% yours by the end of our process.
Ready to turn your bedroom into a calming sanctuary? Book a call with me to get started!