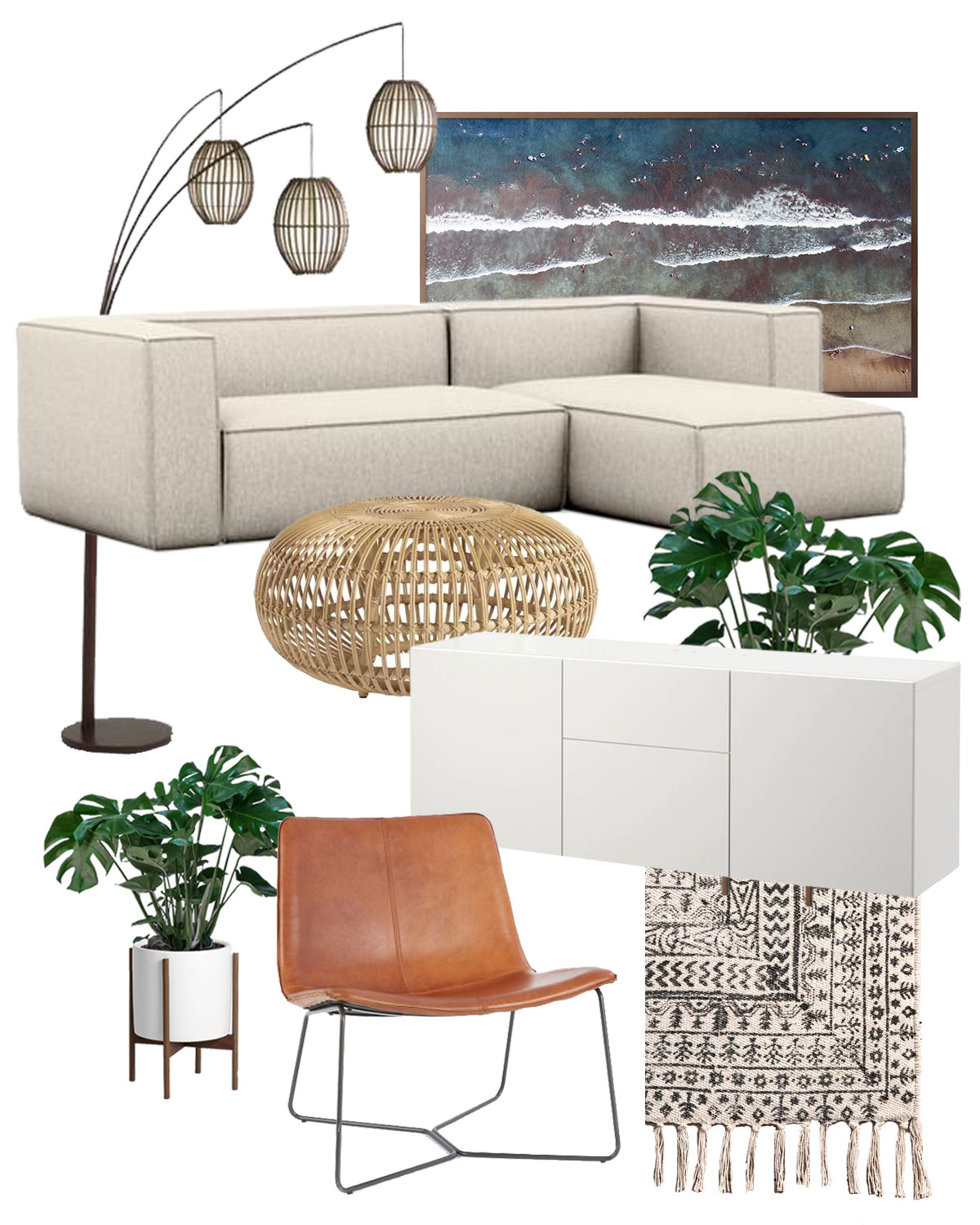 tiki floor lamp | samsung frame tv | lounge chair | interior define sofa | rattan coffee table |
ikea besta sideboard | mcm planter | rug
Our living room has been one of those spaces that I didn't really worry too much about when we first moved into our house 2 years ago. I knew we would eventually want to open up the main living area by knocking out a dividing wall to our kitchen, so I thought it would be best to wait until after that major change to update the lounging area. BUT of course, I have ideas, can't wait, and believe my furniture choices will fit and look nice even after we go with the open concept reno.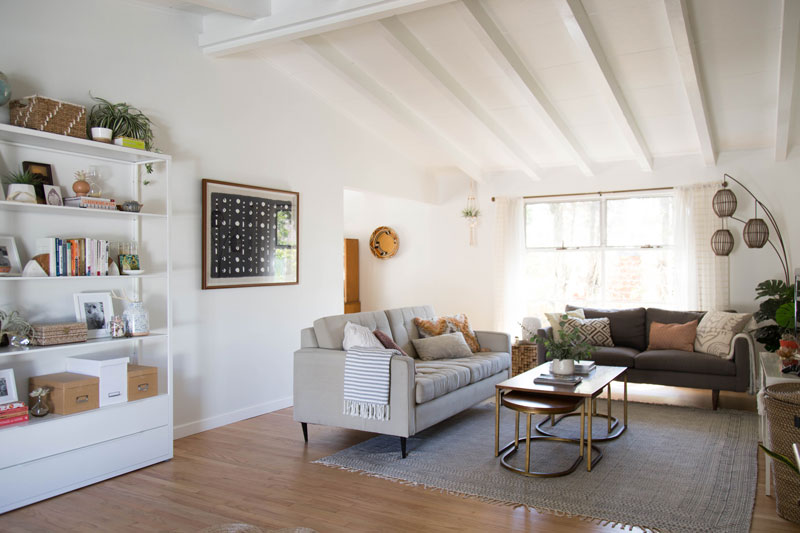 It all started when Bryn threw up on our rug… we could not salvage that thing, but I still loved it so I ended up ordering the same pattern from rugsusa.com but in a larger size (the fact that the last one seemed a smidgen on the small side always annoyed me). When we moved the two couches away to roll out the new rug, I noticed how much pretty light was pouring in from the big window which is usually partially blocked by our gray couch. So we only put one of the couches back in place and enjoyed the summer sunshine for a few days. The space felt so much bigger and brighter, and my plants were clearly happy about it too.
It got me thinking about what we wanted for this part of our house. Breezy, sunny, relaxing, cozy, easy. I now know that we need a setup that keeps as much of the window open as possible, so I landed on one sofa with a right-facing chaise and an accent chair for the opposite corner (beside the tv/sideboard/floor lamp). After lots of research and comparing, I decided on the the Gray by Interior Define in Wheat (supposedly a very kid and pet friendly fabric choice, but you know, fingers crossed). I love it's modern simplicity and loungey feel. It only measures 26″ from the ground, creating a subtle, unobtrusive piece considering its size (108″ wide and 39″ deep, 65″ chaise). I think the Gray will be the perfect way to ground the area since it will be floating in both cases (before and after eventual renovations). The chair is by West Elm and you just sink right down into it. I'm not a huge fan of leather though, so still shopping for something similar, possibly a different material.
I'm leaning towards the Besta to create a quiet sideboard for our tv. And by tv, I mean the beautiful frame tv by Samsung, which has the option to go into art mode when not in use, showing illuminated artwork instead of a black screen. You can also customize it by choosing a frame style, we'll probably go with natural to create a subtle pop against the white walls.
To balance all of these angular shapes in our living room, I'm thinking a round rattan coffee table and LOTS of plants. I'm so proud to share that I've kept about 8 little houseplants alive for the past 6+ months! Finally getting the hang of consistently watering, feeding, and talking to all my plant babies. More on that later ;)
Once I pull this pretty place together, I'll be sure to take you on a mini tour! Stay tuned!