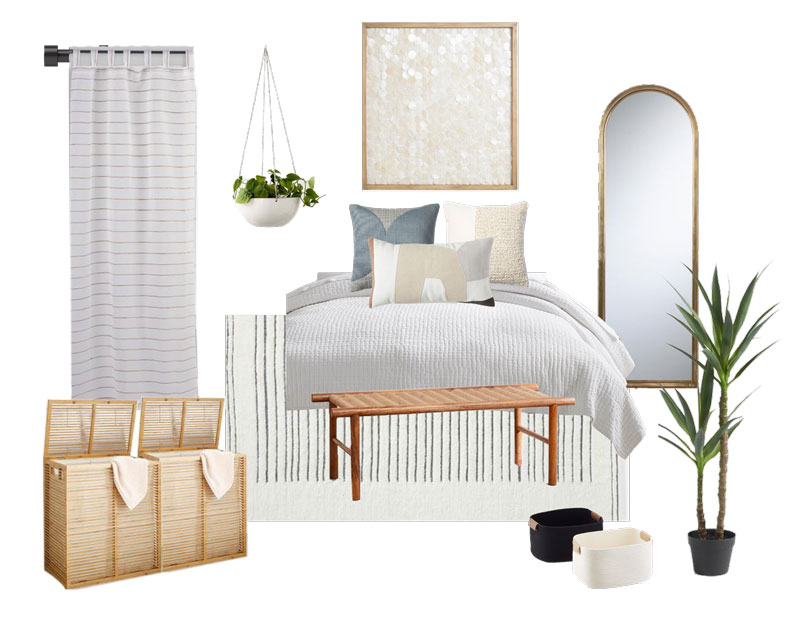 One of the main reasons I love working as an eDesigner, is that I get to help my clients love the spaces they're in without making huge investments. My services offer a fresh take on their current situation, often suggesting surprisingly small changes that don't break the bank.
So much of it is based on color, which we can play with in a number of ways. This project was sparked by a room with beige walls and brown carpet. We were also working around existing warm wood-tone furniture that left my client feeling uninspired.
While she wasn't ready for a complete overhaul, we focused on maximizing the natural light in her bedroom with sheer curtains (privacy was not an issue), a floor-length mirror, and reflective shell wall art.
To offset all the brown, we chose a clean white duvet and throw pillows with large, airy patterns. A light area rug under the bed works to ground the space, breaking up the room and creating the illusion of more space.
And of course houseplants are key players. They literally breathe life into spaces. They work as decor, keeping your eye moving around the room, adding texture, shape and height to otherwise blank corners.
A few words from my client herself,
"I can see the vision and path to build towards this and that feels awesome!"
So instead of repainting her walls, ripping up the carpet, and replacing all of her furniture, we were able to create a space that made my client happy in the meantime. Refreshes are always worth trying before committing to any major changes.
Have a space that just needs a little tlc? Let's see what we can do!