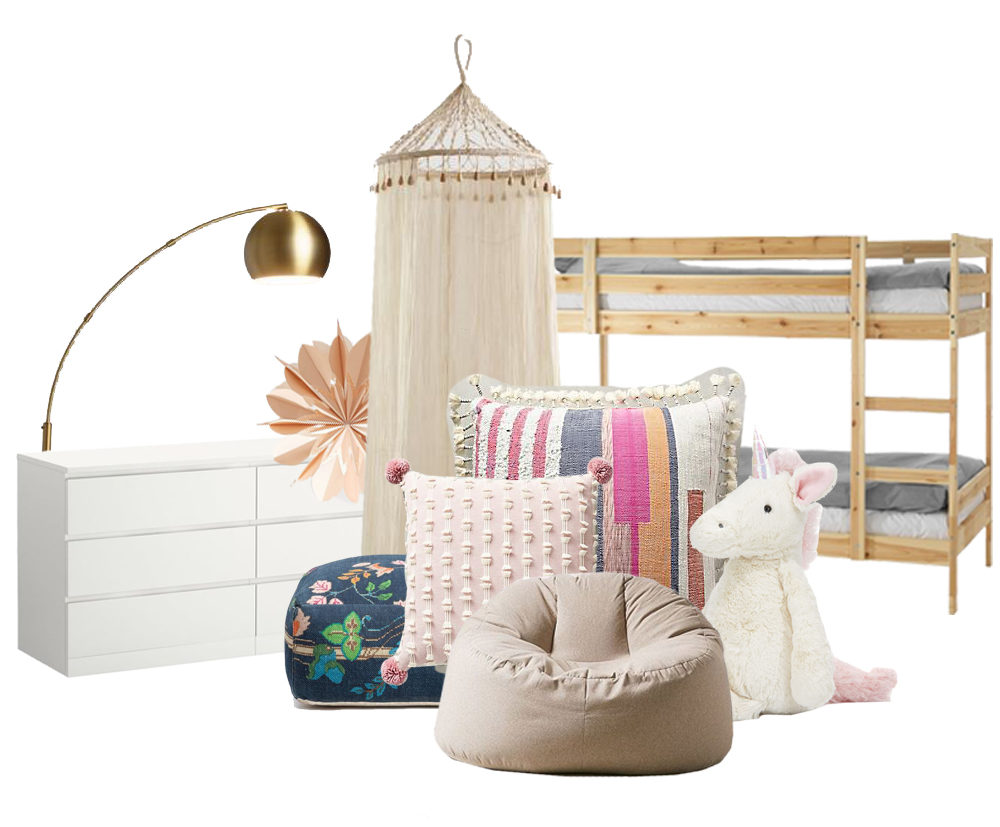 Since Bryn's still a little peanut, we've had no issues with her sleeping in a crib. She's never even tried to climb out so we haven't pushed the big girl bed at all. But after a recent trip to IKEA, we decided that bunk beds may be a fun step up for her, now that she's three and finally potty training. I also love the idea of the girls sharing a room someday, even if it's just for a couple years.
Along with Bryn's new bed, I have a few other room updates in mind. One of which is a super comfy bean bag chair under a dreamy, boho canopy. This little reading nook/chill area will be surrounded by other poufs and floor pillows by her window and bookshelf. The goal is to create a cozy space that encourages more lounging around with books rather than watching tv in the living room. She's been getting sucked into Disney movies lately – we've been on a princess kick ever since Disneyland…
I'm still trying to keep the rest of her room pretty minimal and will most likely go through her closet and toys to clean out the things that no longer fit, work, interest her, etc. Then I can start styling. We're thinking of making the switch sometime between now and the holidays. I'll definitely be keeping you posted here and on IG. Can't wait!
lamp  |  dresser  |  lantern  |  canopy  |  fringe pillow
pom pillow  |  pouf  |  bean bag chair  |  unicorn  |  bunk beds